GET THAT FULL BODY WORKOUT AT THE COMFORT OF YOUR HOME

Is going to the gym an Everyday Hassle? What if you could tone your arms, chest, and legs in the comfort of your own home. Resistance bands are lightweight, easy to carry, and suitable anytime, anywhere.
Resistance bands are versatile strength training tools. They are lightweight and portable with the ability to enhance strength training workouts. Resistance bands has become a prominent tool for at home exercise.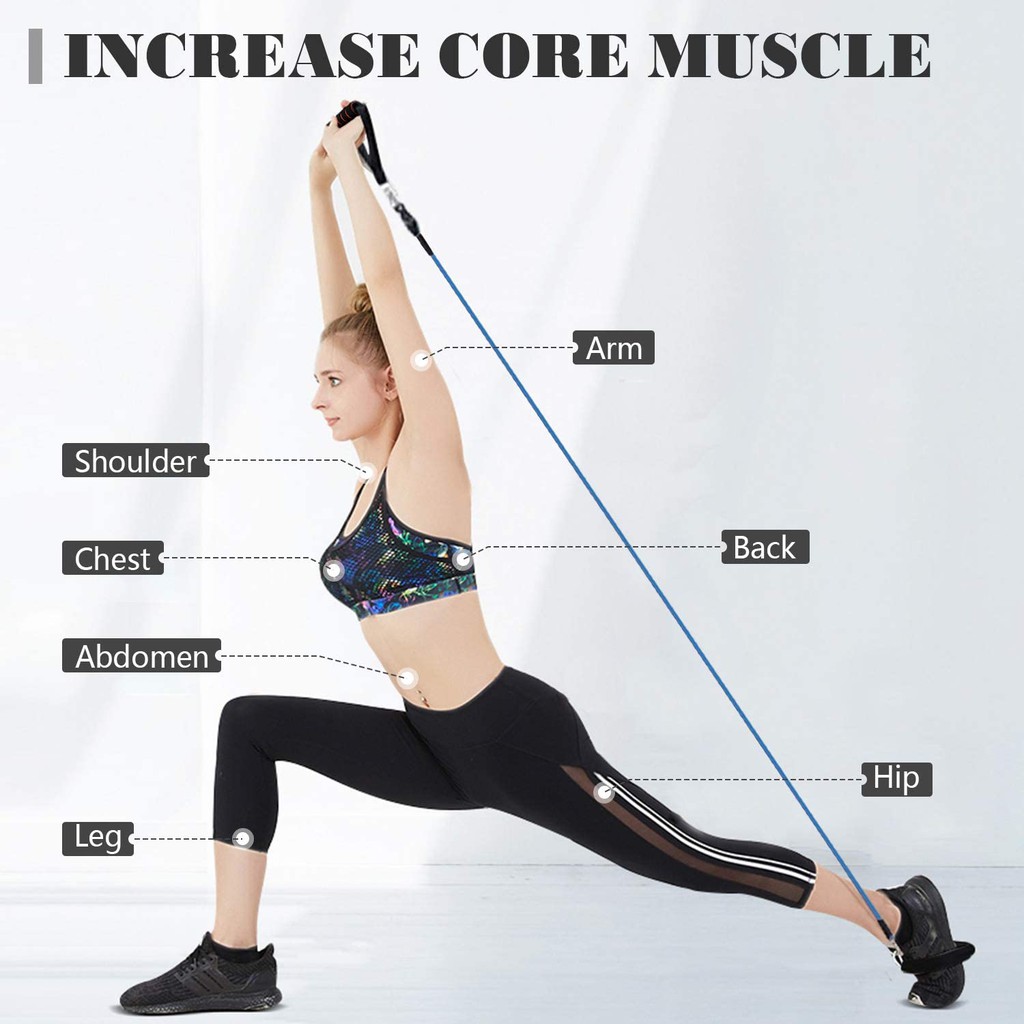 Each individual band is carefully constructed to resist snapping and breaking, which are able to withstand intense daily exercise sessions. Enjoy a morning workout in your hotel room, at work in the office, indoors or on your patio at home, outside at the park. Forget about long drives to the gym, you've got everything you need to work out with the amenity of a travel bag.

Features:
FIVE COLOR TUBE BANDS:

Such tube resistance band with 5 different color and resistance level, all exercise bands are 48" in length, they are double layered and carefully constructed and can be used alone or stacked in any combination to a maximum equivalent of 150 lbs. Made of extra strong cord which is extremely durable and protective. And each tube band is color-coded for instant recognize ability, but we still label each one with the equivalent weight for your convenience.
PORTABLE AND EASY TO STORE: These bands are so lightweight and this resistance kit comes with a cloth pouch. It is very convenient to carry and store.

HIGH-QUALITY MATERIAL: Resistance band is made of high quality 100% natural latex, which is Eco-friendly and skin-friendly. Strong wear resistance and perfect elasticity, steel metal buckle for stronger strength, non-slip handle, comfortable and absorbent.

MULTI-FUNCTION: These resistance bands suit you perfectly for muscle training and fat-burning, Our bands can apply to different types of exercise. perfect for toning your arms, back, chest, and abdominal region.
Specifications:
Material: Natural Latex

Item Dimension:

7.87 x 6.69 x 4.33 inches
Package Includes:
1 x Set of Resistance Bands Set Bands with  Door Anchor Legs Ankle Straps