AN ESSENTIAL PART OF YOUR HOME-GYM SETUP
Our multi-purpose yoga mat is suitable for all level yogis practice on the mat. This is a unisex fitness mat built for yoga, Pilates and general ground exercise, ideal for both beginners and advanced yoga practitioners.
These 10mm thick workout mats allow you to use them anywhere indoors or outdoors especially in the gym, studio or at home, keeping things grip and safe with the right amount of cushion for your joints and knees.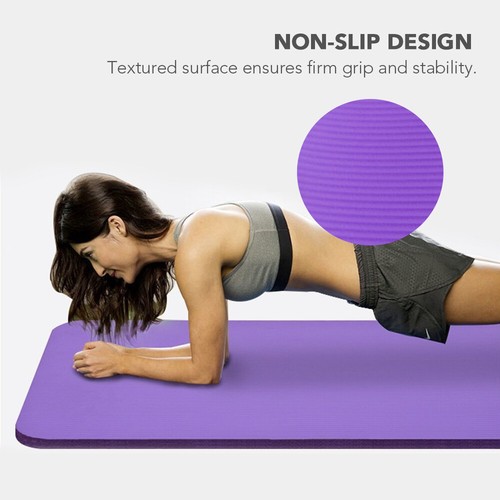 The non-slip material keeps you steady and balanced while staying securely on the floor. The innovative design helps prevent injury and allows you to focus on your practice or workout. You can safely do any poses on the non slip yoga mat without worrying about injury!
Features:
EXCELLENT ANTI-SLIP TEXTURE:

The wavy design on yoga mat provides a good anti-slip effect, allowing you to maintain balance in any sport style.

EXTRA THICK FOR COMFORT AND BALANCE: 1cm extra thick fitness mat with mat strap alleviates stress on pressure points such as joints, hips, hands, and knees. 183*61*1cmOur design prevents injury and allowing you to focus on your practice or workout.
DURABLE: Thick, durable material allows for everyday use, regardless of the intensity of your exercise. Ideal for your home or studio practice.
IMPROVED QUALITY STRAPS:

Improved quality carry straps are appended to make them easy to roll and carry your thick yoga mats to outdoor without marking any permanent straps and buckle indents.
Specifications:
Material: NBR
Thickness: 10mm
Package Includes:
1 x Yoga Mat Thick with Nylon Strap for Men & Women